The Best Character Art Services from Art Outsourcing Studios
In our new material, we have collected for you everything you need to know about art outsourcing services and high quality game art.
What is a Character Design Sheet?
A character design sheet is a document that acts as a guide for the appearance, postures, and movements of an original character in animation, comics, and video games. This instruction sheet is frequently illustrated during the concept art or pre-production phases of a project. All of the heroes in your project should have their own design sheet, which should be created collaboratively by your character designer.
Important character information is also included on model sheets. You may also wish to include some annotations that help clarify your character's varied proportions, such as how many "heads" tall they are and how their various characteristics (eyes, hands, feet, etc.) relate to each other in proportion.
How to Use a Character Design Sheet?
If you didn't already know what character model sheets are for and who they can help, let's figure it out together. Character model sheets are helpful for any designers of your creative team who will be working with a character. The simple and straightforward structure of such sheets should help in the work, especially if you plan to later transfer character development to other team members who do not yet have all the knowledge about the project. You must be careful to avoid problems and unclear tasks.
What Goes Into Creating a High-Quality Character Design Sheet
Every character sheet has basically the same information:
1. A full-body, full-color image of the subject in a casual position.
2. One or two additional full-body sketches of the character in various attitudes, sitting, wearing unique clothes, or interacting with items.
3. 3-6 different expressions
These are sketches of the character's head and shoulders in various emotional states.
4. Your character's name and a brief written description of the character's personality.
In addition to these components, some character sheets will include the following:
5. Character turnarounds – displaying the character from the front, side, and back so that proportion and detail may be clearly seen.
6. Color swatches.
Color samples are used to create the character. This is also optional because the colors will be visible in the full-body color illustration.
Tips for Working With an Artist or Designer
It can be intimidating to work with character designers or artists for the first time. You're literally turning over your entire brand identification and reputation to a complete stranger, yet as hazardous as it sounds, it's the most business-savvy thing you can do.
Demonstrate rather than tell. Visuals also allow your designer to capture all of the aesthetic details and approaches that you enjoy so that they can be incorporated into your project.
Determine your requirements first. The more you know about what you want, the better the designer will be able to offer it to you. This comprises both the artistic (visual style, color scheme, topic matter) and the business aspects (your target market, your destination, your main takeaway).
Begin by reaching an agreement on specifics. Deadlines, timelines, changes, deliverables, and payment… You can avoid a slew of issues by tackling these issues at the beginning rather than the end of your project.
Refer to input as a problem rather than a solution. Clearly express what is bothering you, but do not provide a solution.
Professional Concept Art and Character Illustration
Concept art is the process of developing a visual idea for a project, often used in the early stages of development. Character illustration is the creation of images that represent a character or person in a story. Professional concept art and character illustration services can help you bring your ideas to life. At RSG our services can include sketches, 3d models for games, and animation.
Prices for all services vary depending on the complexity and scope of your project.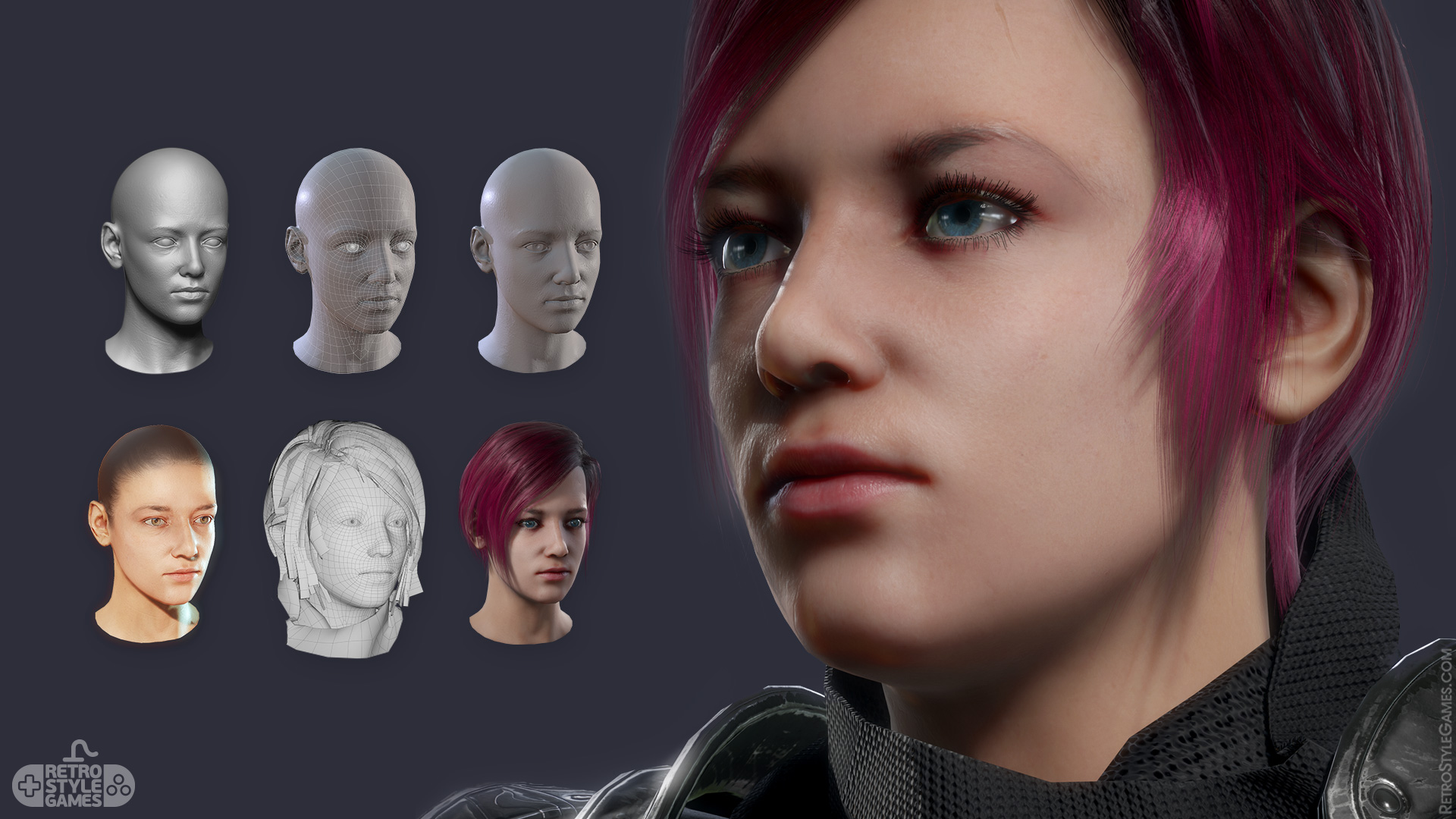 Realistic Character Design for Games
One of the crucial elements that attract players to an experience that is more than just playing games is realistic character design. To draw a human figure correctly, you must be familiar with proportion, gesture, and human anatomy. Drawing a character from head to toe is a complex process that requires a lot of experience and talent from the character artist.
Players expect a character to grow and become fascinating throughout the game. The goal of designing a game character is to ensure that players may engage with it in a variety of ways. Character concept art might be classified as sci-fi, modern, evil, or medieval. Photo-realistic male and female characters are essential components of many gaming genres. One of the character concept art services is realistic concept art.
How to Achieve Realism in Character Design
Of course, with professional services. Our artist team also specializes in detailed character art and our extensive experience in realistic game art design will help us create a one-of-a-kind and properly designed hero for your project. Here are some types of realistic character concept art that are popular:
Games with Realistic Characters
Working with Hungri Games, our studio has developed four 2D realistic characters for the game 'Legend of Khans'. But this is not the only project in our portfolio in this genre.
Monster Concept Art
The main task of the monsters is to instill fear. Our 2D and 3D artists were able to solve this problem by working on the Zombie Run 2 project. There are specific bonuses to being a monster in this game: they are fast, angrier, and not limited by impediments. Our artists were inspired by the Anglerfish. It entices its prey by using a portion of its anatomy that resembles bait.
Superhero Concept Art
In this case, it is important to keep the appearance of the characters known to the players, paying attention to the details of appearance and costume.
Pixel Art Styles
Pixel art provides unrivaled clarity and visual control, particularly on small displays that aren't necessarily of the greatest quality. Palettized (restricted to specific hues) pictures are also incredibly memory economical, requiring only a few hundred kilobytes for a modest to medium-sized game.

Isometric and Non-isometric Pixel Art Styles
Pixel art game style is typically classified into two types: isometric and non-isometric.
The isometric game art is drawn in a dimetric projection that is nearly isometric. This is widely used in games to provide a three-dimensional picture without really employing three-dimensional processing.
Examples of isometric pixel graphics can be seen in games that display 3D space without using 3D processing.
Non-isometric pixel art includes any pixel art that is not isometric, such as top, side, front, bottom, or perspective perspectives.
Recommended reading:
Download the Finn vs Kylo Ren Star Wars pixel art illustration from RetroStyle Games in PNG format without compression at 1920×1080 resolution.
What is Mobile Game Concept Art
It is not merely a representation of a concept. It's not an art sketch or layout. It is not a promotional illustration for a video game. Concept art aids in conveying the look, feel, and emotion of a design concept. It is used to capture and explain a project's general design goal before anything goes into production, as opposed to trying to express everything in particular terms at the start of design development.
It can be utilized in animated or live-action films, video games, and comic books, among other things. It is especially useful for integrating new ideas into existing projects or for swiftly conveying the direction of a whole new project. We produce concept art for mobile games: iOS and Android, for video games including PC, Mac, Apple TV and various consoles.
Why is Concept Art So Important?
It helps to describe something that is very difficult to describe in words. It is the image that would explain the ten thousand words required to truly understand what you have in mind for the client. That image is a work of concept art. Its capacity to provide a clear picture of your vision is why it is so vital.
Once you've decided on an outsourcing team, it's time to get started. Tell us everything about your project, all the important details and parts of the story that can help the concept artists get it 100 percent right. These conversations may take some time, but the more attention you put into it, the better the art team will do their job.
How to Hire a Concept Artist?
You should choose a concept artist after researching their qualifications and benefits. Certain things are made more productive by concept artists, and you must employ the correct applicant for your needs. You can examine their online portfolios to find the type of individual who matches your requirements. They will work according to the specifications and enroll to handle the organization's effective creative ideas.
Based on our outsourcing model, our experienced artists create art, considering the specifics of your request, the game's genre and environment, and the affection that the player should experience.
Professional Artist vs Amateur Artist
When the project idea has already been formed, it's time to think about who will turn your ideas into reality. If your project is dear to you and you want to get the love of the players, we advise you to turn to professionals. Professional artists have extensive experience in implementing various projects and know how the workflow is structured to deliver the project within the required time frame for release.
Importance of Game Environment Concept Art
Environmental concept art is largely concerned with developing an environment that will be used in concept designs or illustrations for the film and video game industries. This art is typically required to assist expand and define the aesthetic of a tale, plot, or even a game. Every location you design for your characters must include a carefully constructed environment. This means that an environmental artist must be able to create enormous wildernesses, bustling streets, and severe terrains that can convey the look and feel of these unique regions to the audience. The most difficult component of environmental concept art is ensuring that the scene corresponds to the action that occurs at that moment in the plot.
How to Create Good Environment Concept Art
Our artists have a keen eye for architectural design, perspective, and composition, as each stroke used to create the scene must correspond to the plot sequence. RetroStyle Games artist team is also skilled in the development of realistic backgrounds and environments. We are prepared to produce concept art and illustrations for AAA video games. And also we designed backgrounds for several hidden objects and adventure games, bringing game developers' ideas to life.
The Types of Game Environments
Each project has its own particular style to create a quality environment. Our artists carefully study the project before starting work. Here are the main types of game environments we work with:
Realistic Environment Concept Art
Fantasy Adventure HOG Backgrounds
Game Background Casual Environment
Cartoon Stylized Backgrounds
Our skilled environment designers use a range of techniques to ensure that the client's specifications are satisfied as precisely as possible. Whether you want a mysterious seabed where treasures hide, or an amazing forest that changes with the change of seasons, or futuristic laboratories for creating weapons, we've got you covered at every step of the way to producing a fantastic video game.
Different Types of Concept Art
Horror Game Concept Art
Fear awakens curiosity. That is why many players prefer games in the horror genre. But there is a big responsibility here for the artists to create compelling and intimidating characters that will make your blood run cold.
Fantasy Game and Character Concept Art
The fantasy world gives creative freedom to artists. Ancient magicians, inhabitants of forests and seas, antagonists and protagonists – everything is possible in the fantasy world. And all this is within the power of a talented outsourcing team.
Concept Art Female Character
Female character concept art is becoming more popular among developers as the number of games with female protagonists and secondary characters grow. Designers need to grasp the mechanics of genuine female anatomy and how to build characters that are both appealing and fearsome.
Female Pirate Concept Art
Their hair flutters in the breeze, and their hands hold sharp swords fiercely. Pirate character clothing concept art is also essential for conveying the exquisite ambiance of the time.
Concept Art Cyberpunk
Cyberpunk is a style in which all visual components are essential. The task of the artists is to create detailed concept art so that further character development brings a good result. This style combines technological progress, revolutionary sentiments, and scientific research.
Cyberpunk Female Concept Art
Our goal was to design a cyberpunk character with an unusually cheerful, bright, and happy vibe for this genre. Everything should be consistent with the overall concept.
Afterword
We represent RetroStyle Games as a game art outsourcing company. Our talented 2D and 3D artists make a full art style development for your projects including spine animation, high-quality game art, environment design and, of course, character creation.
Our project manager knows the importance of deadlines and always works to ensure that your project is delivered on time and within budget. Rest easy knowing that you're working with a character art studio that takes pride in its game art services and put the customer first. Feel free to contact RetroStyle Games if you enjoy our works and require art outsourcing services.