Character Designer vs Concept Artist
So similar but so different. Today we tried to clarify who the concept artist and character designer are.
Are they able to be the same person?
What is a Character Designer?
A character designer is an illustrator who uses expressive illustration to develop the idea and artwork for a character. It's a creative process. They translate a character's appearance, personality, and mannerisms. For instance, they create the gestures, attire, facial expressions, and bodily movements of each character.
What Does a Character Designer Do?
Good character designers employ their artistic skills to produce recognizable characters in a variety of forms and concepts. They create fictional versions of each figure in various contexts and from various points of view. By doing this, they have a better understanding of the character's physique, potential responses to different situations, and character development throughout the game.
The Purpose of Character Design
The world of video games does not stand still and develops every day. Therefore, it is important to give players an immersive gaming experience. Full immersion in the game, its history, and quests helps to realize detailed game characters. These characters are intended to be likable, physically appealing, and memorable through character design.
Artists have the artistic abilities to create characters entirely from scratch in the worlds of animation and visual arts. As a result, they are able to leverage every element of design to develop a distinctive identity.
Common Duties of a Character Designer:
Create several iterations of a single character and give each one personality through different visual cues.
Make characters that are enduring, relatable, and compelling.
Create characters in a manner consistent with the script.
Create character model sheets with different angles and visual cues.
Salary Prospects for Character Designers
The amount paid to character designers varies according to their level of experience, illustration skills, the scope of the production, and the location of the work.
For career advancement and salary increases, a character designer can start their journey by learning 3D modeling.
Why Does a Character Designer Need 3D?
As we have said, 3D opens the door for new opportunities and career growth for character designers. Now we will tell you how character artists in RetroStyle Games work with 3D programs to create unique characters for next-generation games. In addition to real-time 3D character design creation, computer-generated animation, and level design, we also specialize in isometric 3D sprites modeling and rendering.
With regard to props, cars, weaponry, and other 3D game model requirements, we have you covered. Additionally, we offer the best assembling and testing services available. For an MMO game, for instance, we developed more than 30 real-time pirate models. These pirate figures are included in the collection: Barmen, Bartender, Head Foreman, Lord, Moneylender, Shipyard Master, Smuggler and more.
Detailed clothes, weapons, shoes, haircuts, and even beards and scars add to the authenticity of the pirates, as seen in films and on the pages of novels. But, thanks to our character designers in RetroStyle Games and their outstanding 3d models for games, they are now alive and ready for a thrilling adventure.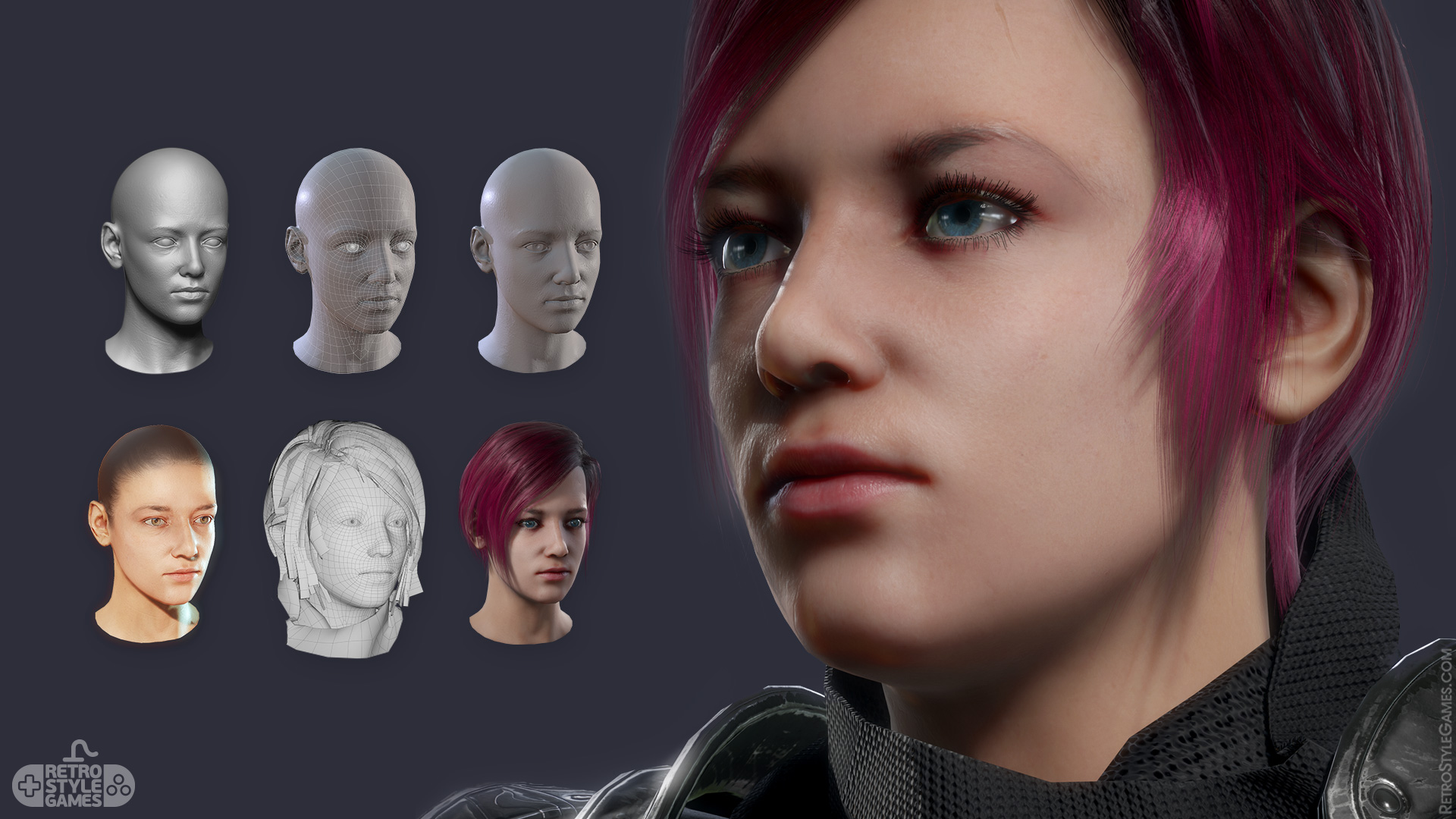 Realistic Character Design
Realistic characters' personalities, like male and female characters, are essential components of the modern game industry. One of the character concept art types is realistic character design. Every now and then, a video game plot (e.g., Game of Sultans, Games of Thrones) is built entirely around family issues and the protagonists' interactions. Our extensive experience in realistic game art design will help us create a one-of-a-kind and properly designed character for your project.
Who is a Concept Artist?
Concept artists produce visual representations of ideas for people, environments, and other objects. These experts develop the design using a variety of techniques, including pencil and paint, because they are artists at heart and do love the creative process. The entire character as it may appear in a video game (age, size, clothing, facial features, etc.), any props the character might have (weapons, staff, etc.) and also visual storytelling.
Workflow of a Concept Artist
The art director or creative director gives the artist a brief. This brief could include information about the character's personality, visual qualities, or anything else relevant to the design.
The concept artist then starts sketching ideas and makes rough sketches. It can be 2, 20, or 200 thumbnails. The most crucial aspect, though, is the discovery phase. This is the process of going from a blank page to a final result. Once the artist has a few exciting ideas, they will begin graphically painting their thoughts to a complete render.
The Duties of a Concept Artist:
Taking in what the art directors and project managers are saying and interpreting it.
Examining the source material to find suggestions for how to develop a character or plot.
Completing a storyboard with character, location, and prop sketches.
Collaborating with character designers to create a 3D version of the sketch.
How to Create Character Concept Art?
To learn how to design character concept art, we must first realize that good character concept art in game development expresses the notion of an imagined hero in such a way that monetization and player retention are possible. It should evoke the player's emotions, be memorable for this purpose and be full of new ideas.
Character concept art has existed as a separate profession since the early days of game development. How do you create an expressive and catchy video game character concept? It would be beneficial if you considered using numerous distinguishing features, such as a character's history, styling, epoch, and so on.
For example, for the game Legend of Khans our 2D artists created four 2D characters. We investigated period costumes and armor, as well as the geographical place depicted in the game. This enables us to generate realistic and intricate aesthetics. We pitched our ideas, reached an agreement on the final text, and went to work.
The process of creating a 2D character is multi-staged. It is complicated and necessitates the effective collaboration of 2D artists and project managers who serve as intermediates between the client and the 2D professionals.
Picturesque Characters Concepts
Creating character concepts is an amazing journey, the final point of which may be unknown even to our artists. Our team of talented artists creates realistic, visually appealing, and fantastical characters that would be right at home in every game world.
People
A dull hunchback Igor or chunky dwarf with Celtic roots, or characters in authentic pirate outfits. Perfectly crafted character's role means a more complete image, semi-successful work and the delight of the players during the gameplay.
Zombies and Monsters
While working on the game Zombie Run 2, our concept artists faced an interesting challenge: we had to create some truly frightening images that not only repulsed but also attracted the attention of the players. We were influenced by iconic images that the spectator is familiar with when creating concepts for the image of a zombie. We started with green skin with orange accents, jutting bones, and an athletic figure, then added some intriguing touches.
Our RTG art team of game designers was inspired by the Anglerfish when creating the other monsters. It entices its prey by using a portion of its anatomy that resembles bait. We combined this scary underwater image with some more usual werewolf ideas, put in some exposed bones and sores, and got a fantastic pack of beasts eager to tear apart.
Responsibilities of Concept Artists vs Character Designers
Concept artists and character designers both have the creative freedom to try to captivate an audience and dazzle a crowd, but the responsibilities of each position differ slightly. The character designer will take the concept artist's preliminary drawing and develop it into a more finished representation of the character.
Concept artists may sometimes work on tasks unrelated to characters at all, such as creating a building for an architectural firm or the background for a scene in a video game. A character designer's main responsibility is to create a fresh portrayal of a character for a movie, animated series, or video game.
Final Words
Although both character designers and concept artists use their imagination to engage an audience, their tasks are distinct. Concept artists' rough sketches are used by character designers to fully develop a character's look and sense of the whole game style.
A concept artist may also take on projects without any characters, like graphic designers. In contrast, a character designer is only focused on creating characters.