3D Modeling Services for Games
Our team of 3D modelers and CG Animators has a vast experience in creating Real-Time 3D Characters,
Unity Assets for 3D games, Video Game props, CG Shorts and more.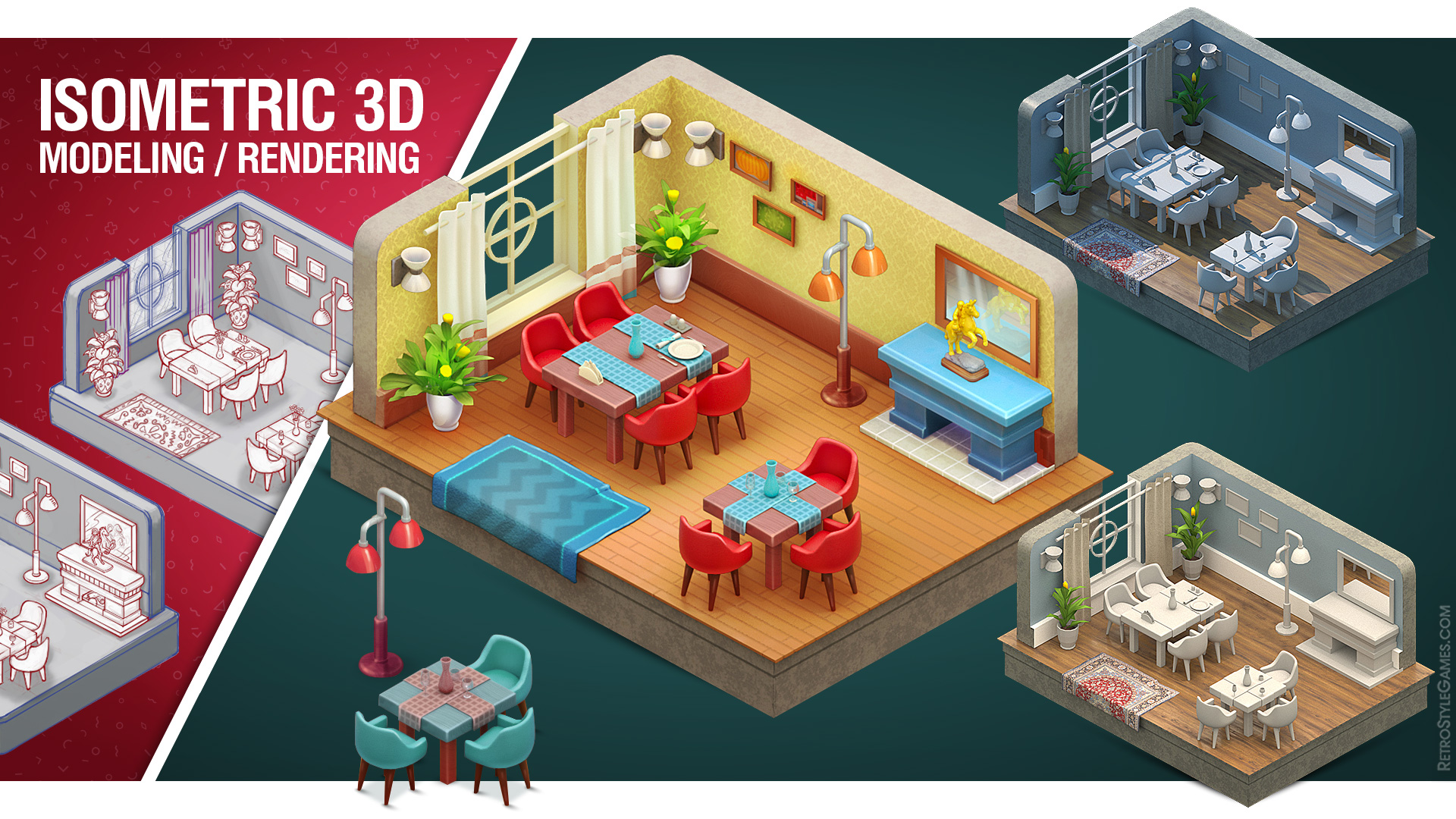 Isometric 3D Modeling and Rendering
Retro Style Games is experienced in the area of isometric 3D game art creation, and our team is prepared to execute full scope projects starting with initial concept/modeling and ending with final assembly of an isometric sprite by layers.
Real-Time 3D Character Design
Retro Style Games excels at making 3D Characters in Zbrush. Our 3D artists can sculpt detailed 3D Characters and render them in real-time while using Physically Based Rendering (PBR).
We also offer animation services and can Rig, Skin and Animate 3D models of animals, humans, and monsters. See examples of our 3D Characters and Real-time 3D sprites below:
CG Animation and Rendering
Retro Style Games also makes exceptional CG cinematic characters and shorts. Our customers are welcome to choose between realistic 3D character designs and cartoon stylization. These characters can be used in CG trailers, shorts, cinematic trailers, promo, creative works, ads, etc.
See examples of our CG Cinematic 3D modeling work below:
Our team uses clever 3D pipeline with in-house render farm setup. We use custom scripts to speed-up and automate processes. Which allows to reach best balance between price, quality and speed.
Level Design and 3D Environment
Retro Style Games is known for outstanding environment and level design. We can bring your environment concept art to life by focusing on perspective, lighting, and storytelling.
Own 3D and 2D games done with Unity (40+ million downloads) gave us huge real experience we can share with our clients!
See examples of our level design and Environment 3D modeling below:
3D Game Models - Props, Vehicles, Weapons
Retro Style Games creates a variety of 3D assets and game props for large game developers and small studios. Our team is ready to make 3D weapons, vehicles, ships, and other high-quality 3D assets for your projects.
See examples of our 3d Assets and Game props below:
Game FX and Simulation / Rigging and Skinning
Retro Style Games also offers FX, Rigging, and Animation services. Our artists are ready to animate and rig stylized models, cartoon characters, animals, and monsters. Our high-quality FX, rigging, and animation services will help to make your projects and games go viral.
See examples of our 3D Stylized Characters and Rigging Animation below:
Unity 3D / Unreal Assembly and Testing
First-hand experience in video game development allows Retro Style Games to excel at Unity/Unreal Assembly and testing. Our clients can rely on our technical expertise in asset compilation within the game engine.
RetroStyle Games team provides full-range of 3D and 2D Game
Art production services. To learn more, get in touch with us.