Isometric game sprites are usually produced by rendering of 3D scene or 3D model. As result you are getting a 2D image of original model with all the lighting and shadows baked-in. Which is giving a three-dimensional look.
This allows even low profile devices to use super complex and detailed artwork.
The only downside of that approach is fixed camera angle and high RAM usage in case of big amount of animations.
Some of the most-known isometric games are: Fallout, SimCity, Diablo, Age of Empires, Cossacks etc.
Isometric Room
RetroStyle Games Team are savvy in Isometric Sprites due to enormous experience of rendering 2D objects into 3D models.
Below we described shortly our workflow in creating Isometric objects for Room Interior:
2D concept of an asset, room interior or game object is drawn;
3D modeling and clay rendering;
textures and materials;
final rendering with layers;
Overpaint aimed at 3D object refining.
Due to the restrained physical memory on mobile operating system, Android and iOS RAM is regarded as a very valuable resource. Considering this, reduction of RAM allocated by a mobile app is strictly necessary.
Tile-based rendering allows to cut down the amount of memory and bandwidth, as an image (walls, floor, other duplicated objects) is split into tiles by an grid, that are later set in texture atlas.
Each tile is rendered separately.
Typically, isometric tiles are represented as blocks, that can be sorted in different combinations generating a range of objects. It is just necessary to bear in mind that tiles are stitched seamlessly.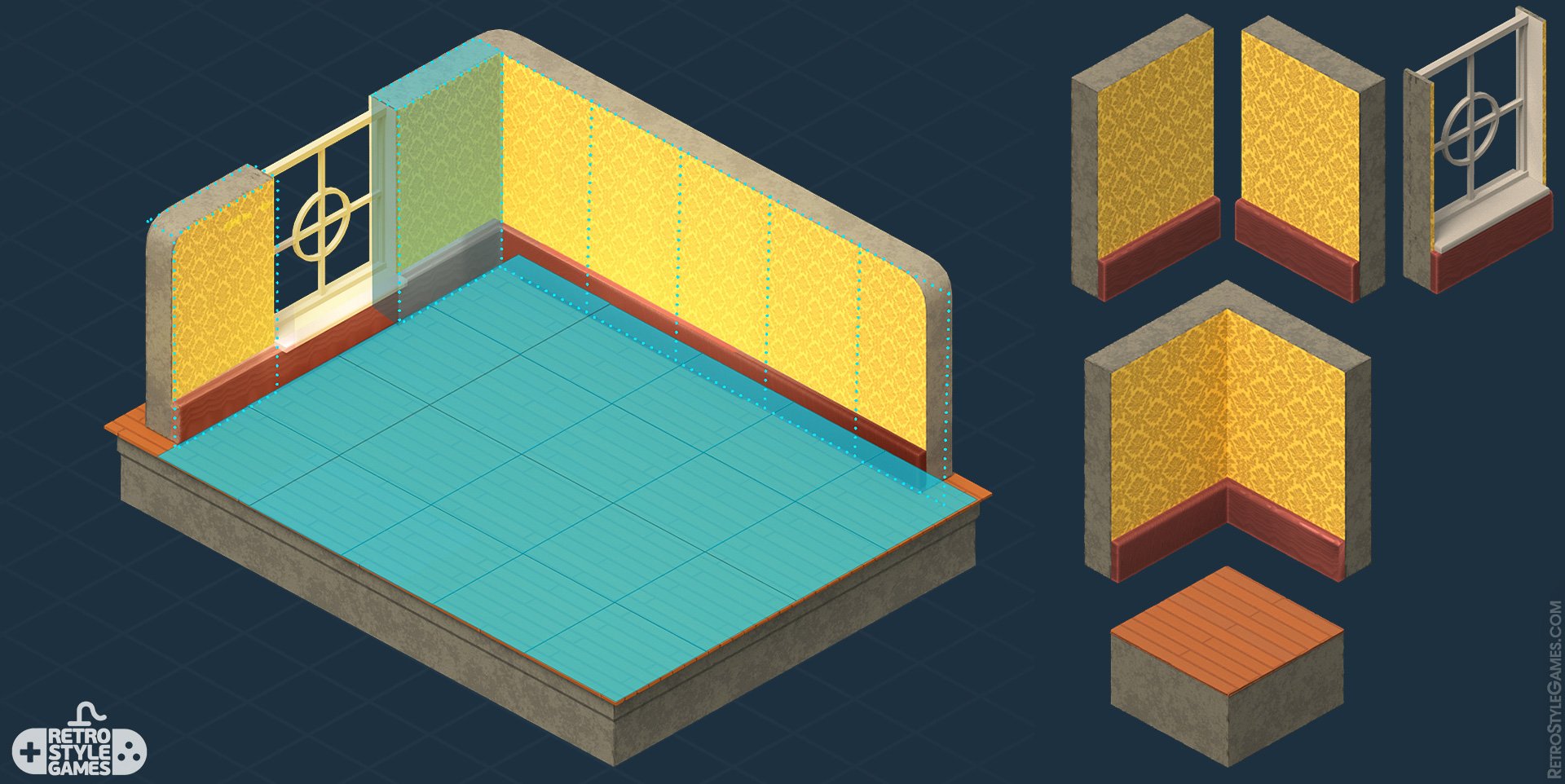 When it comes to creating an awesome piece of artwork, possessing the right 3D modeling software becomes a core issue. The most popular packages that we use as an outsource game art company are 3dsmax, Maya, Blender, Cinema 4D, Zbrush.
As for the top rendering engines it is worth mentioning Vray, Corona, Arnold, Octane, etc.
Download 3D model of Isometric Room Free:
Next video displays main steps for creation of Isometric World:
Character
Isometric game sprite is a 2-dimensional bitmap, which produces a 3-dimensional effect. Some facets of the environment, which are not visible from a side view or top-down perspective, are revealed due to the angled viewpoint.
The only downside of that approach is a fixed camera angle and high RAM usage in case of a large amount of animations.
In such cases, we often mix 2D environment assets with animated 3D Characters.
Sprite sheets animation has a bulk of advantages: excellent performance due to reduction of draw-call amount, rapid loading, one texture for all data and possibility to render many objects within a single draw-call.
In the video below you can see a great example of animated game sprites.
Isometric 3D Game Sprites – Manor Cafe
Manor Cafe is an amusing restaurant designing game. Our game art outsourcing company created a multitude of isometric game sprites, elements and artworks for Manor Cafe: we generated isometric areas and locations, environment and interior assets – trees, bushes, ground, furniture, decor elements, etc.
Isometric 3D Game Sprites Builder Room 
Just play casino slots, get coins, and renovate your mansion. It is a Millionaire Mansion Game. Our Casino Game Art Team created 3D Isometric Interior Sprites for a mansion. We also animated a lot of game assets (lamps switch on and off, mirrors can break, etc), so the mansion gets more realistic and picturesque.