Manor Cafe is an amusing restaurant designing game.
It is very bright and user friendly: a player solves match-3 puzzles and renovates and restores a messy and abandoned house building up a luxury restaurant.
Funny and lively in-game characters make Manor Cafe even more fascinating.
Our game art outsourcing company created a multitude of isometric game sprites, elements and artworks for Manor Cafe: we generated isometric areas and locations, environment and interior assets – trees, bushes, ground, furniture, decor elements, etc.
Environment 2D concept art appears an underpinning of future isometric location assets. The subsequent 3D modeling process encompasses texturing, sprites and tiles rendering and overpaint.
Isometric Environment Sprites
Our Team created all essential garden elements and environment assets in several levels and settings: before renovation (messy, old, broken and dirty) and after a series of repairs and updates.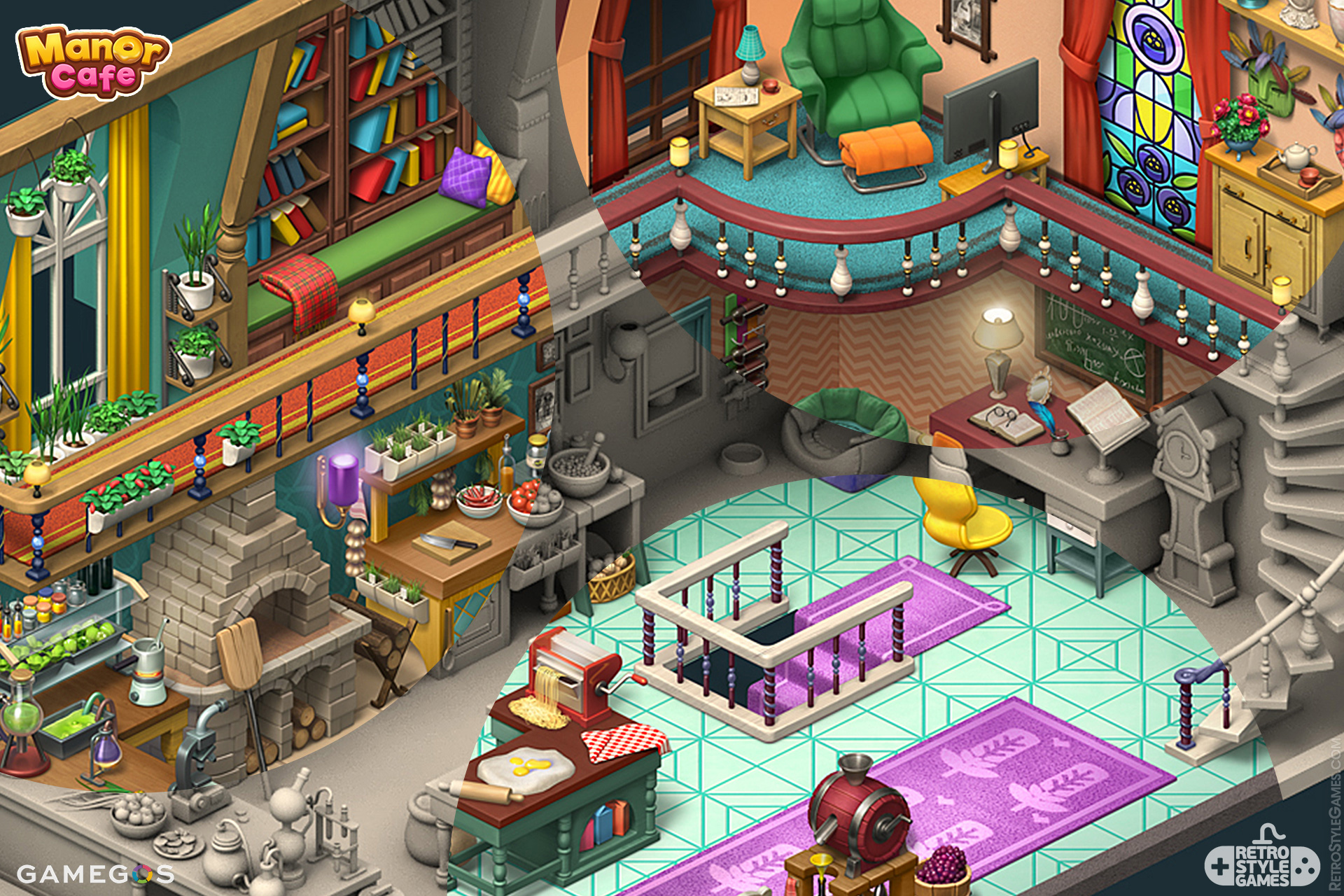 Room interiors were also designed in several styles. At the beginning of the game a player deals with an abandoned cafe premises and broken interior elements. While playing you can restore and decorate Manor Cafe, choosing and matching various furniture and decor pieces.
Besides 3D modeling, our outsourcing studio created a number of glowing and polished 2D food icons: sandwiches, donuts, cakes, cupcakes, etc. Briefly, we designed icons for everything you need to make your game menu diversitive and appealing.
Game Icon is the first a player sees while browsing App Store or Google Market. Undoubtedly, it must be appealing and attractive, so the importance of an App Icon design can not be overestimated.
We also A/B test Game Icons in order to choose the best-performing option, that will increase conversion rates and enable your App to be visible in app stores.
While playing Manor Cafe, you will be definitely impressed by the main characters.
RetroStyle Games modeled one of them out of the client's concept – Meg, a restaurant manager. We enhanced 3d character design and adjusted the size and proportions to fit the game requirements.
Backgrounds for Match-3 Game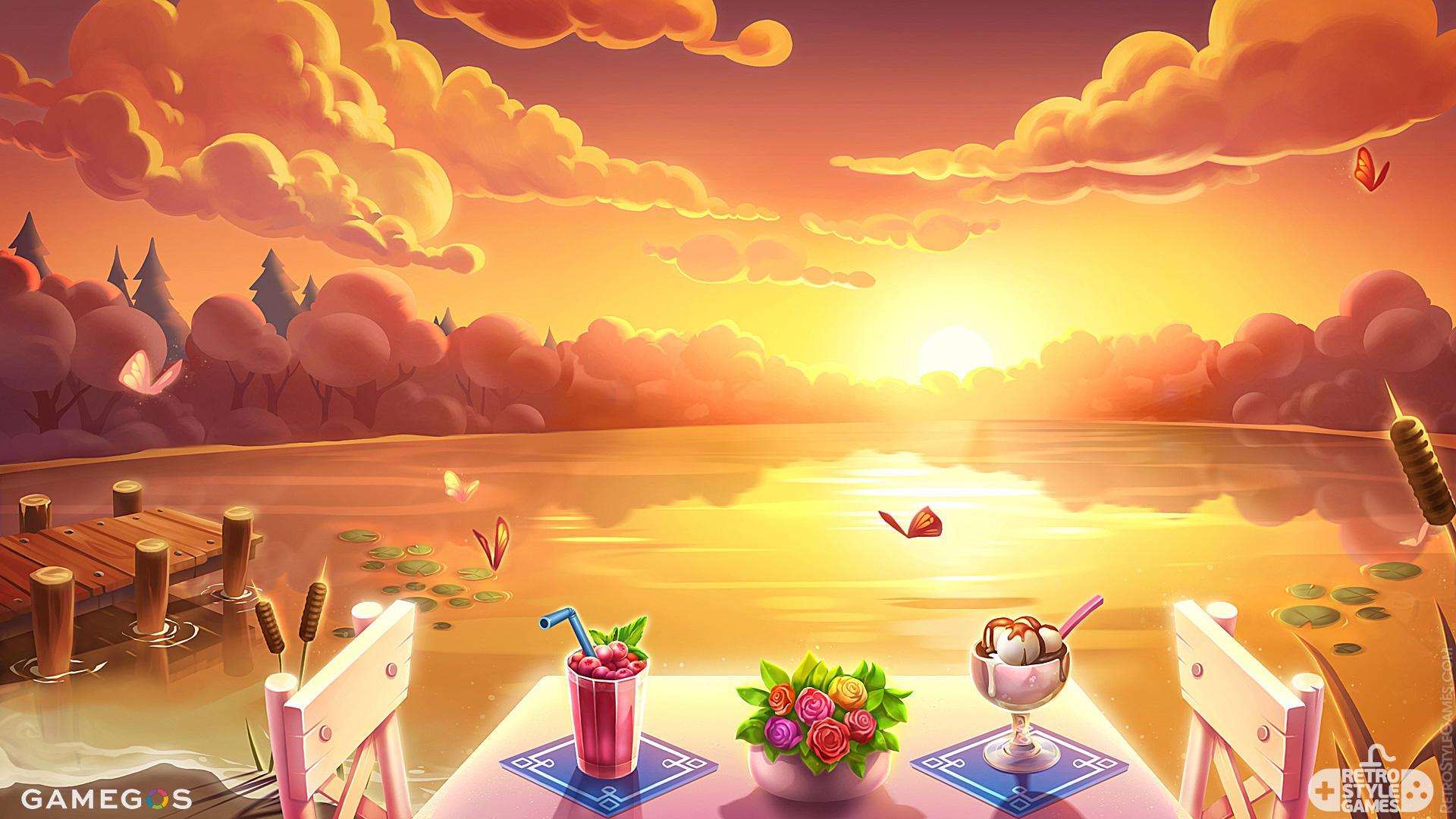 Manor Cafe gameplay is Match-3 puzzles. 2D background of a tile game should not be flashy, else it contrasts with slots and distracts player's attention from a game.
Our talented 2D artists created aesthetic and nice 2D chips backgrounds that perfectly harmonize with other game assets.
RetroStyle Games company delivers a wide range of art outsourcing services. We create unique design and artwork. Get in touch and create your superb game with us.
Our team created concepts and afterwards 3D models, which were rendered and over-painted GUI, Icons, Environment and Promo assets for great SteamPower1830 game by Hexagon.
Isometric Interior 3D Sprites – Millionaire Mansion Builder
RetroStyle Games Team created 3D Isometric Interior Sprites for a mansion. We also animated a lot of game assets, so the mansion gets more realistic and picturesque.