Cat 3D Character – Animated Game Maskot and Fur Simulation
Retro Style Games team creates memorable 3D characters and makes them come alive via rigging and skinning. We also make the characters assume different cinematic body poses and animate them. Additionally, we set up fur render settings to make sure that our characters are charming and realistic.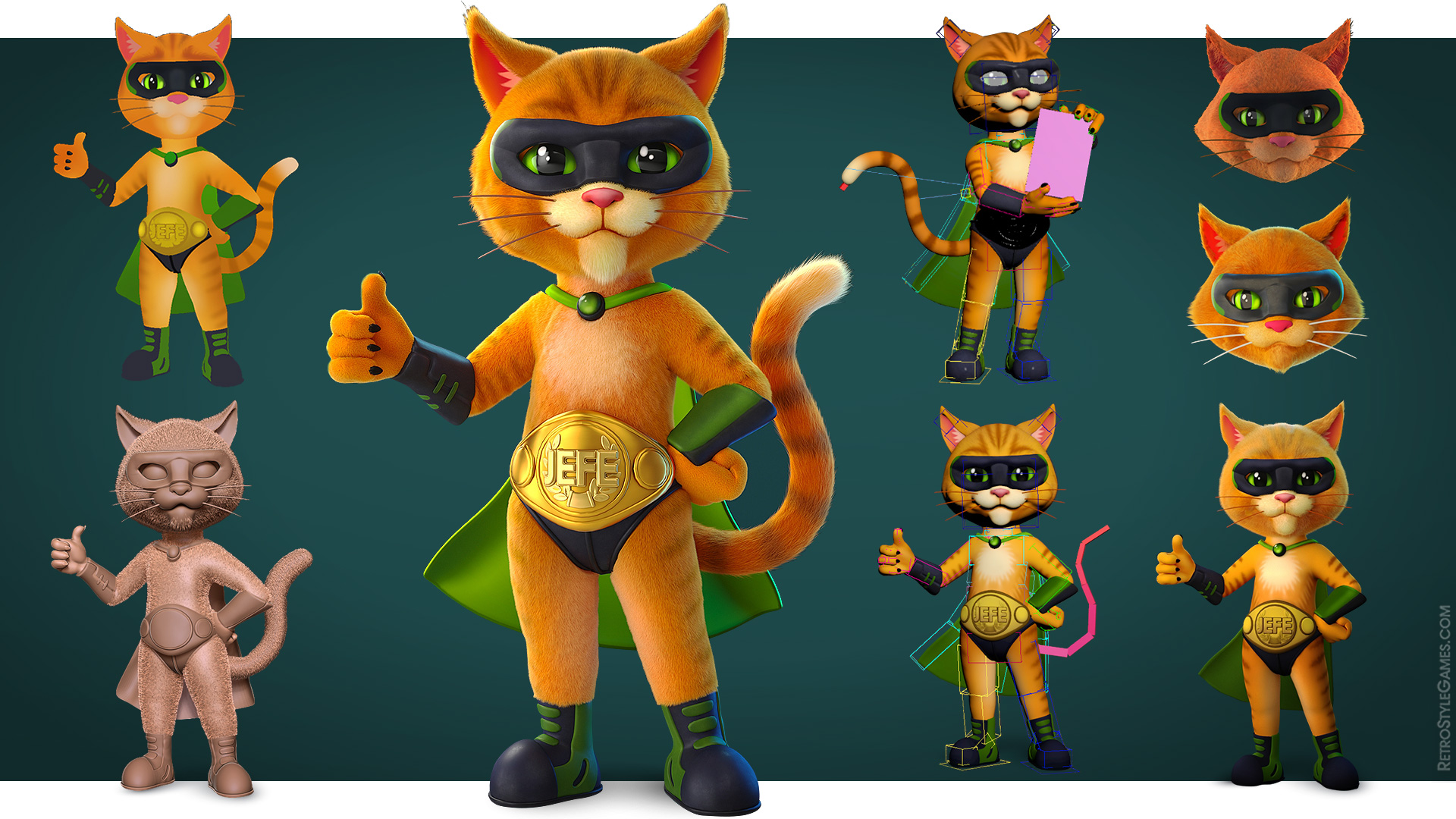 Cartoon Cat 3D Character Design
We utilized a full scope 3D modeling approach to create a Cat Mascot character named Jefe for a 3D slot machine game. The process consists of 2D concept art development, ZBrush sculpting, retopology, UVW unwrapping, texturing, fur/grooming render setup, and final rendering. We pay close attention to details during all stages of the process and always seek to deliver high-quality 3D modeling services. The screenshots below illustrate different stages of the full scope 3D modeling process.
Before and After Character Improvements
We tested the promo character model during different stages of the 3D modeling process to achieve an optimal result. For example, our team tested the character's shape and readability to avoid visual artifacts and inconsistency.
Additionally, we made sure that the mascot character fits a website color palette. The screenshot below illustrates the differences between an old and new character, and increases in character's shape and readability are significant.
Blending of 3D and 2D Promo Art
We also created Site Promo 2D Illustrations based on the combination of 3D and 2D elements. We created 3D models and utilized them as foundations for 2D overpainting.
The core advantage of 2D overpainting is that it enhances the images and allows artists to create unique stylized landscape illustrations. The screenshots below illustrate the differences between 3D polygonal landscapes and 2D overpaints.

RetroStyle Games team is always ready to create unique 3D characters or mascots for a broad range of game genres. Our team is experienced in the area of 3D modeling and animation, and you can expect high-quality services from our artists. We can create an impressive mix of 2D and 3D art to set your project apart from the competition. Thus, feel free to contact our team if you enjoy our work and need visually appealing 3D characters or stylized 2D Illustrations.